In early November the US became the first country to vaccinate children aged 5-11 against Covid. The Biden administration says it has enough vaccine to inoculate all 28 million children in this age group.  Israel is about to follow suit after its health committee voted 73 to 2 in favor of vaccinating young children.   According to the experts, the rationale behind the campaign to vaccinate this age group is to protect the children and prevent infection surges by vaccinating as many people as possible.
The children will receive 2 Pfizer-BionTech shots, each one third the size of adult doses. The FDA approval of the vaccine was based on a Pfizer trial of 2,268 children which found that the vaccine offered 90% protection against infection and was safe and well tolerated. But criticism has been leveled at the trial on two counts:  the small size of the trial which one expert said was "not large enough to detect severe adverse events" and the fact that the participants were only monitored for one month following the second dose, meaning that no long-term follow-up has as yet been carried out.
On this flimsy basis, millions of children are about to be vaccinated for a disease which carries zero zero risk for children.
In an interview with Fox News, Dr. Harvey Risch, Professor of Epidemiology at Yale University, stated categorically: "There is no justification at all for vaccinating young children." He pointed to the fact that 66 deaths associated with Covid occurred in children aged 5-11 during the period October 2020 till October 2021 but only half of these were actual deaths from Covid and all 33 of these deaths were in children with chronic conditions (diabetes, cancer survival, obesity etc.). In contrast, he pointed out, in the same period 600 children died from motor vehicle accidents. "Healthy kids do not die from Covid," he stressed, warning that "there will be far more deaths caused by the vaccines than the number of deaths caused in healthy kids by the virus." Dr. Risch also said that he is ready to home-school his children if schools in the US mandate the vaccine for young children.
Across the world, deaths from Covid in young children have been in the zero bracket. A British study recently published in Nature magazine found that deaths from Covid were "extremely rare" among children. After analyzing data from all hospital admissions and deaths reported for children under 18 in the UK, the study found that Covid caused 25 deaths in this group during the period March 2020 and February 2021. Backing Dr. Risch's claims, the study showed that half of these deaths were in children with underlying health conditions.
Vaccine Dangers
Other experts have been even more vociferous than Dr. Risch in their condemnation of the proposal to vaccinate young children. French geneticist Alexandra Henrion-Caude has called it "sheer insanity" and Nobel prizewinner Luc Montagnier warned that it was "irresponsible" to put children at risk and the side effects of the vaccine could affect future generations.
The impact on children has yet to be assessed but, since the vaccines have been administered to over 12 year olds both in the US and Europe for some time now, we know that they impact particularly negatively on teens and young people under 30. The reactions generated by the vaccines in young people are particularly strong because of their very strong immune system (older people react less powerfully because their immune systems are weaker). Several European countries have suspended the Moderna vaccine for under 30s because of myocarditis problems and Taiwan recently announced that it is halting the 2nd dose of Pfizer for teens aged 12-17 because of similar concerns.
Dramatic stories of young people suddenly dying following a vaccine shot abound. A 17 year old girl died suddenly on Oct. 29 from cardiac arrest, she had received her second dose of Pfizer on Sept 15 and was hospitalized on Oct. 23 with abnormal EKG. "Cause of death possible acute myocarditis." A 12 year old girl from South Carolina hemorrhaged 22 days after receiving the Pfizer vaccine. A 13 year old girl from Maryland died from a heart condition after receiving her first Pfizer jab. A 17 year old girl was hospitalized with Guillain-Barré syndrome (when the body's immune system attacks  its nerves) after receiving a vaccine (the above cases are all registered on VAERS, the Vaccine Adverse Event Reporting System of the US, and cited on the site of Children's Health Defense). It is known that one of the main side effects of the vaccine, in addition to thromboses and myocarditis, are neurological illnesses such as  Parkinson's disease and Guillain-Barré (GBS). In Canada, 48 cases of GBS have been reported following COVID-19 vaccination.
French doctor, Dr. Andre Enluc, recounts a story he witnessed at first hand. "I was driving on a country road and saw a car stop in front of me. A young boy came out of the car followed by his mother. He had trouble walking and looked like he was undergoing some kind of nervous crisis. I stopped to help. The mother said the boy began to have headaches in the car, wanted to vomit, had problems articulating and was unable to swallow. He had no prior condition. I examined him and diagnosed a major cerebral event. The boy was 12 years old and had received two doses of the Pfizer vaccine. Since it is impossible to accumulate so many symptoms so quickly without any prior health condition, I concluded that the boy's symptoms had been caused by the vaccine."
An idea of the overall impact of the vaccine can be gaged from VAERS data even though VAERS is known to be highly under-reported. The latest data shows a total of 875,653 adverse events for all groups following Covid vaccines. This includes 18,461 deaths and 135,400 serious injuries in the period December 2020 to November 2021.
See the VAERS table below for a dramatic comparison of deaths after the flu vaccine and deaths after the Covid vaccine: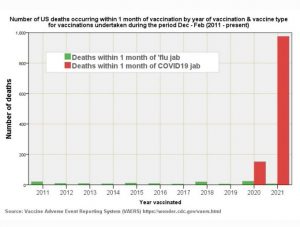 Public Distrust
In a first in Israel, the country's Health Ministry recently held a five hour open discussion with the public on the vaccination of young children. The Ministry's lack of transparency throughout the Covid pandemic is one of the reasons many Israeli parents, although vaccinated themselves, are hesitant about vaccinating their children and why officials expect an uphill battle in their vaccination campaign. In a recent survey, 45% of Israeli parents said there was not enough transparency around vaccine side effects and many complained about the suppression of information. All data and statistics on Covid published in the Israeli press are provided solely by the Ministry of Health. "The fact that the Health Ministry is the regulator, decision-maker and researcher is a problem," says Dr. Tehilla Schwartz-Altshuler of the Israel Democracy Institute. "This is what has caused the lack of trust and, as a result, the public is unsure where to look for accurate information." While most of the public health experts  who took part in the event spoke in favor of the vaccine – as a way of protecting children from Covid and as a tool for defeating the pandemic – Prof Rivka Carmi, of Ben Gurion University of the Negev, was one of the few who spoke against it. In her estimation, the risk of side effects from the vaccine is greater than the benefits: "Covid is a mild disease for children in most cases," she said.